Welcome to Agragaami (Pioneer)
Here I will post about cinema.
2. On Cléo from 5 to 7 (1962)

I have always liked simple films especially those which take place in real time. Recently, I am fascinated by photographers turned film-directors. I came to know about Agnès Varda from criterioncollection youtube channel. I feel plot of this film is secondary. You start to notice the beautiful cinematography after few minutes start to the film (at the restaurant scene). Soon after that film carries forward the beautiful visual journey symbolizing life, death, film within film narrative, self-obsession and happiness.


Did I say it; it has brilliant use of mirror.
1. Thoughts on movie Ijaazat (1987)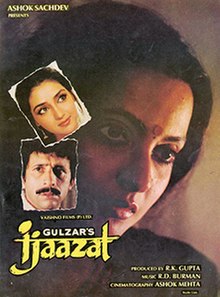 The movie starts (as opening sequence) with the song Chhoti Si Kahani Se, which is one of my favorite song. The lyrics is great and so are the visuals. Gulzaar (the director) takes us through the nature centering the theme of rain and briefly train. The movie takes place in a train station in a rainy night (two of my favorite things) with flashbacks. The camera movement, framing, lighting and of course the dialouges are brilliant. I won't go much details into technicality (I'm not an expert in that).

This film was released in 1987, at a time when melodramatic films like Hukumat, Mr. India, Insaf, Tezaab (1988), Qayamat Se Qayamat Tak (1988) etc. were released. Ijaazat deals with realism of marriage, love and communication in semi-rural/urban town. This film has also the famous song Mera Kuch Samaan , a beautiful song. Spoilers ahead >>>> The context is our protagonist Mahen has been married to Sudha forcefully out of repect of elderly. Sudha is kinda obsessed Mahen's old lover Maya. She sends back the remaining belonging of Maya. Maya then writes back a letter to them saying you have returned the material things but what about the experineces, moments I have spent with Mahen. I know it sounds cringy but believe me the dialogues and the song portray this beautifully. The ending is great too. I won't spoil more. You can watch the movie from youtube https://www.youtube.com/watch?v=yRb3rUv5sHY .
(or just watch first 3 mins, it's great)


Have I said yet, it also features chai !!